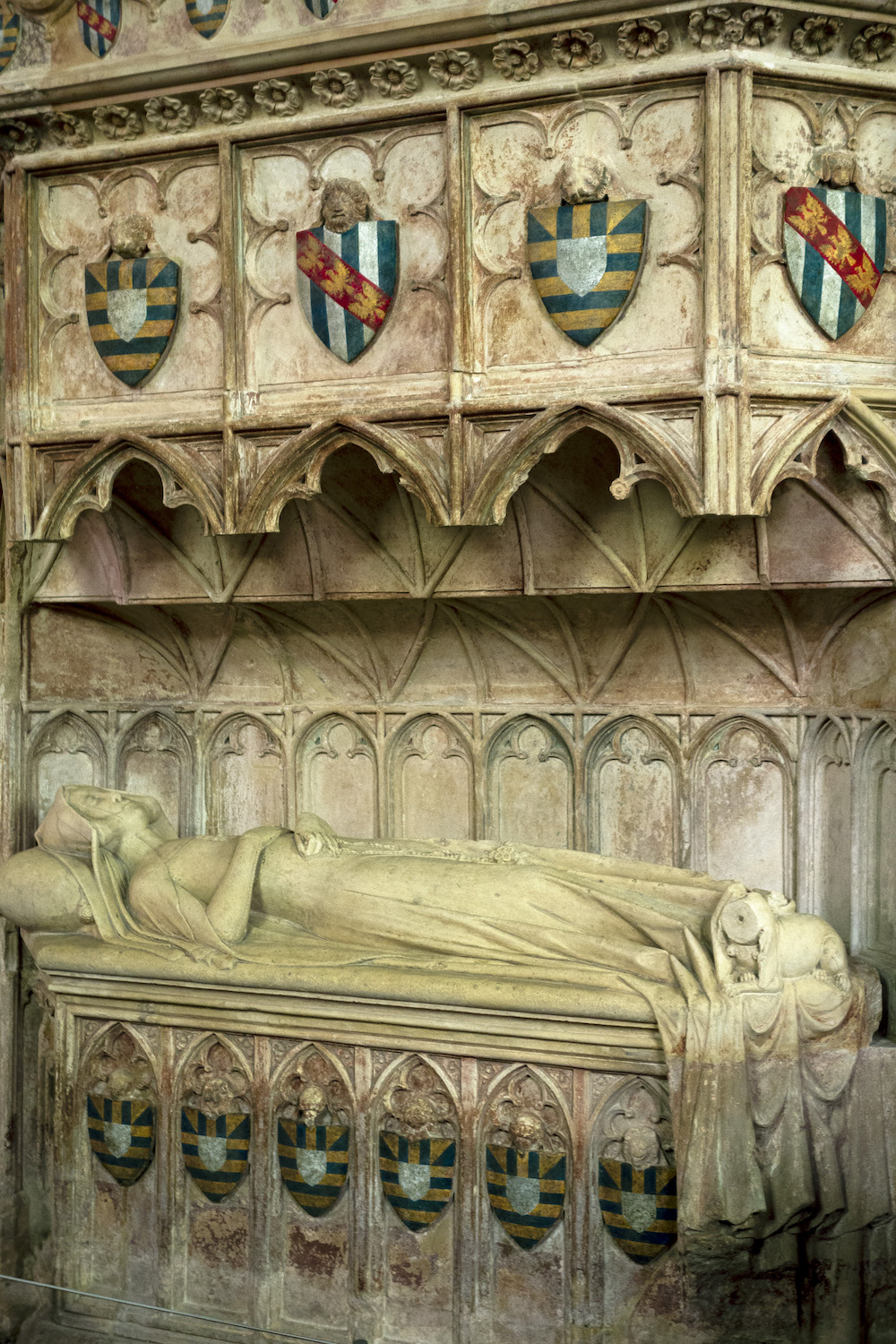 Continuing with the Mortimer family for another week, the next person of interest is Blanche Mortimer. The daughter of Roger and Joan, she was probably born around 1316 in Wigmore Castle and died in 1347. Her tomb is found in St Bartholomew's Church at Much Marcle, Herefordshire, a beautiful memorial, decorated with both her husband's and her own family crests. It is even more remarkable for the fact that her body was found to lie within it when the tomb was restored a few years ago.
But what is her connection with Pembridge?
We know that Blanche Mortimer was married in 1330 to Sir Peter Grandison, and the Grandison crest is certainly visible on her memorial, as can be seen in the photo above, interspersed with that of the Mortimer family, but this is not the only church where the two crests could once be seen together.
In the mid 17th century, the antiquary Silas Taylor paid a visit to Pembridge church and, luckily for us, left a description of the stained glass in the windows of the west aisle of the church. Although the stained glass has not survived until the present day, Taylor's description of it has, showing that the windows held the crests of three families: Mortimer, Geneville and Grandison.
Mortimer and Geneville were linked in the marriage of Roger and Joan, Blanche's parents but the only event that linked the Grandison family was the marriage of Blanche, suggesting that this took place in the newly built church at Pembridge. It cannot have been an easy start to the marriage; within a few months Roger, Blanche's father had been executed for treason. Despite this she has continued to be known by her father's name, going down in history as Blanche Mortimer, but her tomb is called the Grandison tomb and is well worth a visit.