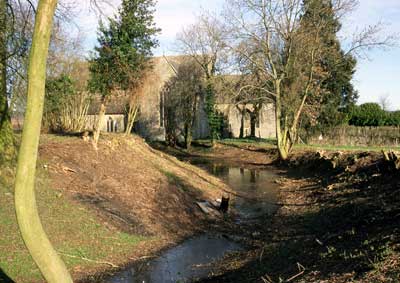 Last time we talked about Roger Mortimer, who is famous for ruling England, alongside Queen Isabella in the 14th century, however his wife is just as fascinating a character who spent the latter part of her life in Pembridge. Joan was one of the wealthiest heiresses of the Welsh Marches in the 14th century, inheriting Ludlow castle and lands as well as estates in Ireland.
Joan was born at Ludlow Castle 2nd February 1286, daughter of Sir Piers Geneville and Jeanne of Luigsan. Joan was the eldest of three sisters, all of whom were due to inherit their grandfather, Sir Geoffrey de Geneville's estates in Ludlow and Ireland. In order not to split up the estate the younger two sisters became nuns and Joan inherited it all.
As a wealthy heiress Joan was subject to an arranged marriage. She was betrothed to Roger Mortimer, possible in 1200 or 1300 according to Ian Mortimer, who suggested that this was as a result of financial arrangement between their families. Roger's father Edmund Mortimer received a loan from Geoffrey de Geneville in 1300 and the marriage may have been a statement of affiliation between the families. Roger and Joan were married in Pembridge, on the eve of the feast of St Matthew the Apostle, 20th September 1301. Joan brought prestige and lands to the marriage and it proved a fruitful one, with twelve children.
The first part of their marriage was relatively quiet, with visits to their estates in Ireland and in 1321 Roger rebelled against King Edward. Roger was captured and sent to the Tower of London; he subsequently escaped and fled to France. Joan was not as lucky. She was taken into custody by the King, and ended up in a cell at Skipton castle until 1326. During this period Roger was in France, where he became the lover of Queen Isabella. Their experiences over this period must have been remarkably different. It is not known when they first met after Roger returned to England and overthrew King Edward, but Roger is known to have been in Pembridge in November 1326. It could have been at the church in Pembridge that they were reunited, which was just about to be rebuilt, and where they celebrated the marriage of their daughter in June 1330. A few months later Roger was executed for treason and Joan was imprisoned again. She did not get her lands back until 1336 when she received a full pardon for her husband's crimes.
In 1341 Pembridge became the dower residence of Joan de Geneville, probably in the castle behind the church, until her death in 1356 at the age of seventy. She was buried in Wigmore Abbey beside her husband. Her tomb no longer exists as the abbey was destroyed during the dissolution of the monasteries. Joan's numerous direct descendants include the current British Royal Family, Sir Winston Churchill, and the 1st American President George Washington.