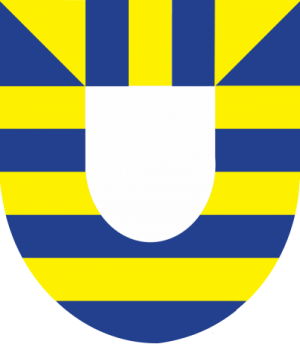 The image of the top of the page shows the Mortimer Crest. The Mortimer were lords of Pembridge for 160 years.
Previously I've written about the de Braose family, overlords of Pembridge until 1230, when William de Braose was accused of having an affair with Joan, wife of Prince Llewellyn, and both were executed. Pembridge at the time was owned by the de Pembridge family and as a result of William's execution,  de Pembridge family would have a new overlord, the mighty Mortimer of Wigmore. Roger Mortimer III would go on to marry Maud, (sometimes Matilda) the daughter of William de Braose.
Henry de Pembridge grew up and prospered initially, becoming Sheriff of Hereford in 1255, however in 1265/6 Henry was disinherited and his lands forfeited to the crown following the defeat of Simon de Montfort (who he supported) at the battle of Evesham.
He was handed over to Roger Mortimer and, together with his family, was imprisoned at Wigmore Castle. Roger Mortimer had been a key supporter of the crown at the battle of Evesham and was awarded de Montfort's severed  head following the battle. Roger sent it to Wigmore Castle as a present for his wife, Maud de Braose.
Henry de Pembridge made peace with King Henry on November 16th and had all his forfeited lands returned – except Pembridge, which remained in Roger de Mortimer's hands.
Mortimer prized the manor of Pembridge and forced Henry to appear before the County Court at Hereford and formally convey the Manor of Pembridge to him, and as insurance for this, he held de Pembridge's sons hostage until Pembridge became his legally.
Pembridge was never again held by a member of the de Pembridge family who moved to Welsh Newton where Pembridge Castle can be found to this day.
The Mortimer family held Pembridge until 1425, and the village became the residence of a number of different members of the Mortimer family throughout the 160 years that they held it.
The first Mortimer to hold Pembridge, Roger, died on the 22nd October 1282 reputedly of a bad cold, while staying at Eardisland. Following his death, his widow Maud, lived in the castle at Pembridge.