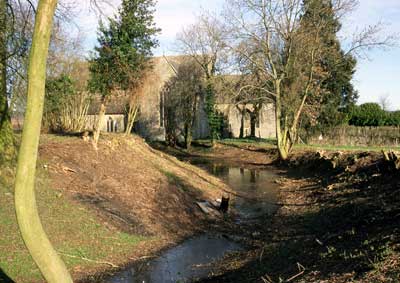 There was a castle at Pembridge for hundreds of years possibly even up until the seventeenth century – but today the only sign to show where it once stood is the moat surrounding the site, still clearly visible at the back of the church in Pembridge. An archaeological dig a few years ago found the remains of stone walls underneath the earth, on the site marked by fire. It showed that the buildings had been destroyed at least once and rebuilt.
The original owners of the castle were the de Pembrugge family, however after they lost the Manor of Pembridge to the Mortimers, in 1265 it became part of the Mortimer estate and seemed to be used as a dowager house, with records shown that it was occupied by Matilda de Braose, after the death of her husband Roger Mortimer. Richard de Swinfield, Bishop of Hereford visited Pembridge on 23rd May 1289, when he was provided with food by the Rector, Hugh de Breusa and then stayed in the residence ('mansa') of Matilda de Braose on the following day at her invitation. The record also shows that the there was a large laundry bill – suggesting an important retinue and a substantial building for them all to stay in.
After Roger Mortimer, 1st Earl of March was executed for treason in 1330, his lands were taken by the king an an inventory of this period mentions a hall, chamber and barn. The building is referred to as a Manor House with park attached, possibly suggesting it was used as a hunting lodge, especially as the land south of the village was a hunting park at this time.
Writing in 1650, Silas Taylor documents substantial ruins still standing and "at the mansion house stands the remains of a fortified keep or castle". The stone that was on the site was probably reused in the 17th century buildings in the village.