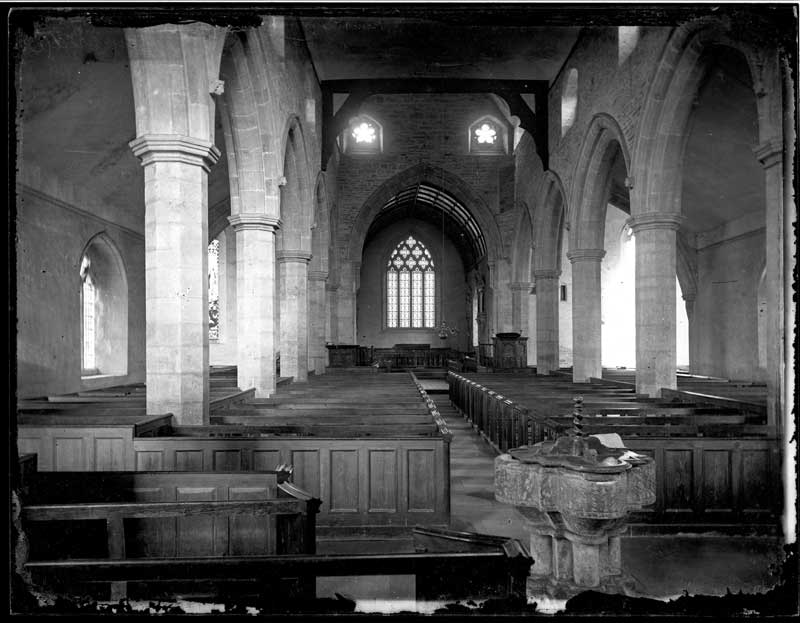 The church has been in the centre of Pembridge for almost 700 years, and it is easy to imagine that it has not changed in this time. But the seating and layout in the church have changed many times throughout the years. Originally there wouldn't have been any seats at all in the centre of the church. There aren't many records of what the church looked like in the early modern period but later records show that even in the last 200 years the layout has changed at least three times.
From 1841 two drawings exist (copies in Lambeth Palace archive), the first showing Pembridge church as it was prior to this date and the second, a new layout.
The first shows the church had box pews, with seating for 429 people. The pulpit was by the second pillar on the south side of the nave, the stone tombs (which were under the south window of the chancel) had been moved to the north transept and a gallery at the rear had seating for 46. The were two windows in the south wall of the chancel and two in the north wall with a door between them. Two steps led up to the high altar. The south door was in use although the drawing seems to suggest that the west door was not.
The second drawing indicates considerable change. The south door is sealed, a new vestry is indicated on the south of the chancel although this was actually built on the north side. The pulpit is moved to the south side of the chancel arch and the stone tombs novel to the north of the chancel where they still remain. The gallery has also gone along with the layout of the pews. The new pew design provides seating for 751 including "free sittings" for children and adults.
A print in the vestry is a proof of an engraving done to mark the completion if this work. As can be seen on this print, the ceilings were plastered. The photo above was probably taken not long after this.
In the early 1900's the box pews were removed and the current seating arrangement, of wooden seats was put into place.