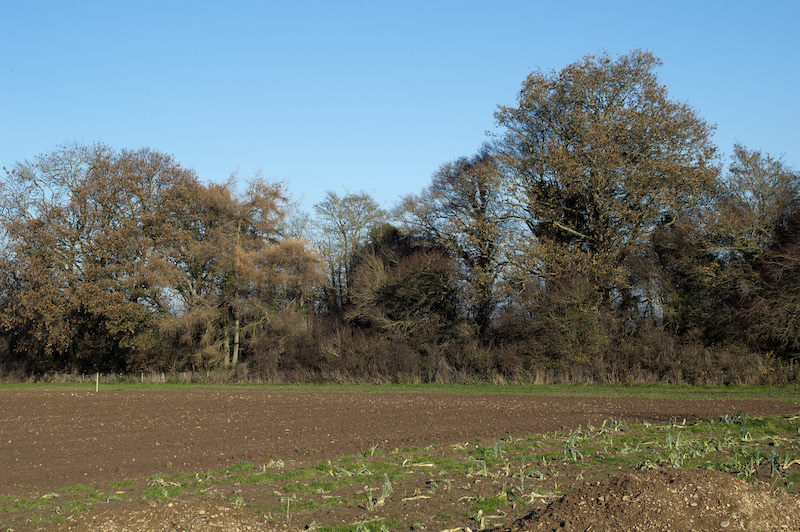 Although the archeological  evidence for an Anglo Saxon settlement specifically in the vicinity of Pembridge is limited, the wider area around the village has visible evidence of the Anglo Saxons in the form of Rowe Ditch, shown in the photo above.
There has been some archeological finds from this period in Pembridge- a strap end and a cosmetics grinder were found in the fields behind Pembridge Church, but Rowe Ditch is the clearest evidence that this area was occupied during this period of history.
Rowe Ditch
Rowe Ditch is a substantial earthwork, with a bank and a ditch that runs to the west of Pembridge for more than two miles in a north-south direction across the Arrow valley from Milton Cross to the Byletts.  It is still clearly visible today, a smaller cousin to Offa's Dyke, the great earthworks that runs along the Welsh border, only a few miles further west.
It was first mentioned in an Anglo Saxon charter dated 958 AD, which defined the boundaries of an estate at Staunton-on-Arrow.
The ditch has been the subject of several archaeological excavations, in the 1970s, 80 and in 2003 and, based on the findings of these excavations, is has been suggested that Rowe Ditch dates from the earliest phase of Anglo Saxon settlement in the Arrow Valley, from around 650 AD, and was built as a defensive line and as a fixed boundary.
There is also a possibility that Rowe Ditch marked the western boundary of the 'Lene', a territorial unit within the valleys of the Arrow and the Lugg. There are several place names within this area, such as Leen Farm which derive from this name.