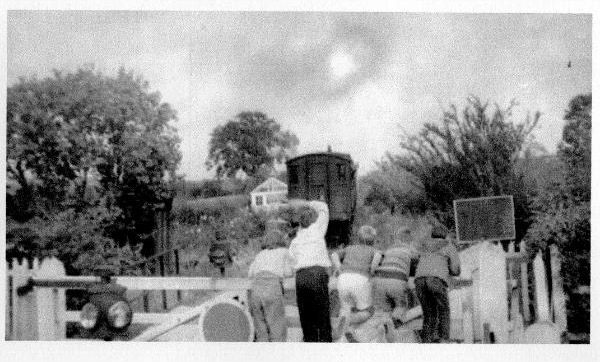 The coming of the railway meant that for the first time the people of Pembridge had the opportunity to travel further in relative comfort. Previously transport was either by walking or by horse drawn vehicles, just to local towns on market days such as Kington and Leominster, for the buying and selling of goods, or by mail coach if a journey was needed further afield.
The railways opened up the transportation of not only people but also freight. Agriculture saw the benefit, with farmers able to send goods such as sugar beet to Kidderminster to the sugar refinery, as well as transporting livestock to markets.
An Act of Parliament of the 10th July 1854, under the guidance of its leading promoter Lord Bateman, incorporated the Leominster-Kington Railway Company. The Leominster- Pembridge section was not opened for goods until 18th October 1855. Financial difficulties meant that the line to Kington was not completed until 1857 with the need for another Act of Parliament to overcome legal problems over a level crossing at Pembridge.
The Leominster-Kington branch passenger service closed for two months during the 1951 fuel crisis and then reopened for four more years before closing to passengers on 5th February 1955. A skeleton freight service managed another nine years of service until 24th September 1964, finally succumbing to the competition from road transport, both buses and lorries. The image at the top of the page shows the last train departing from Pembridge Station.