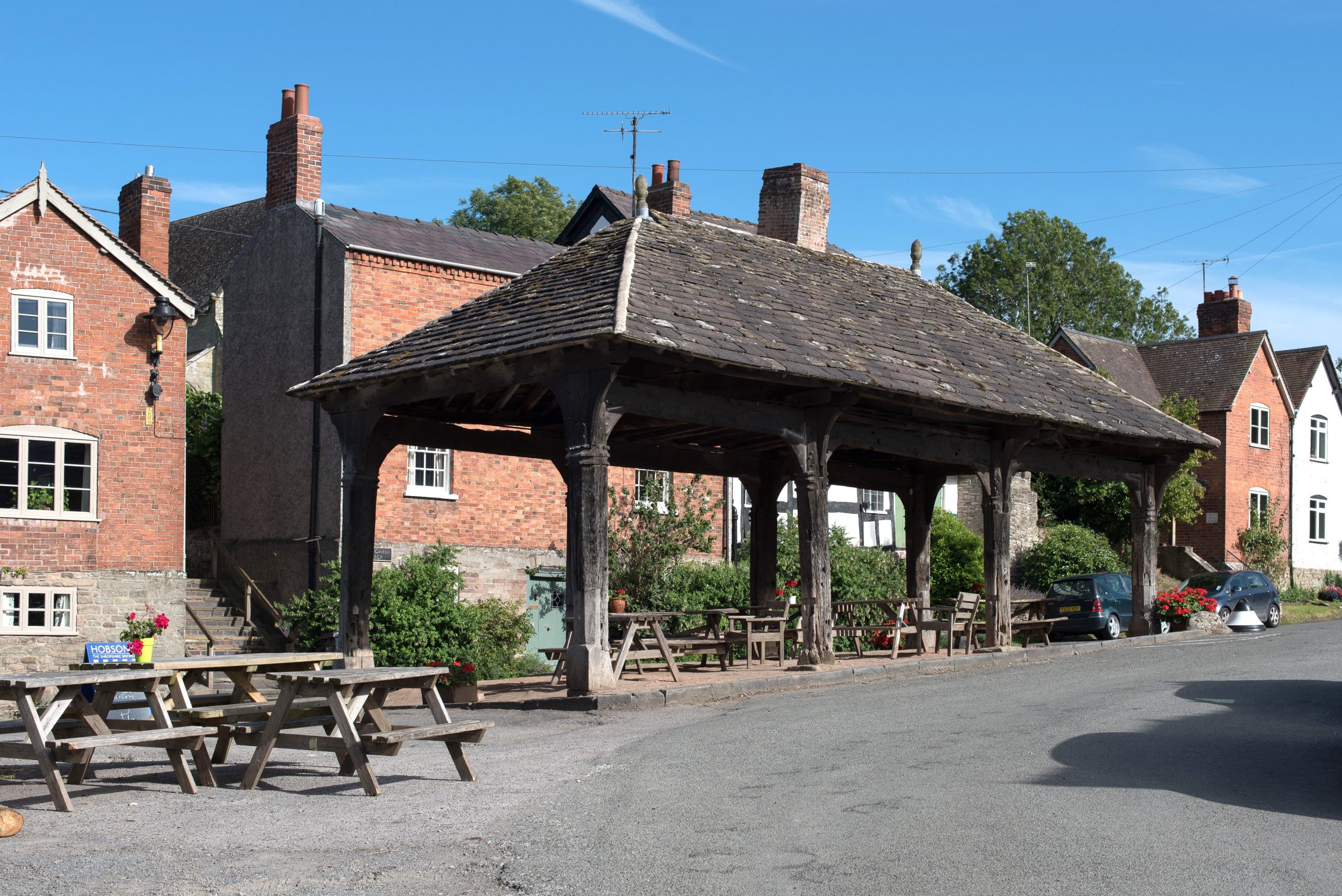 The Market Hall is one of Pembridge's most distinctive features. It sits in the centre of the market square, aligned on a North/South axis, in a place where markets have been held for hundreds of years. This would originally have been a much larger market area, probably triangle shaped, with a base by the houses on the A44, including the area where the New Inn stands, and the two points of the triangle running up by the line of the houses. There would have been a 14th century market cross on this site prior to the building of the market hall, a stone from which can be seen at the base of the north east corner of the market hall.
Pembridge has had a charter for a weekly market and an annual fair since 1239 and during the Middle Ages, the Cowslip Fair (held every May) and the Woodcock Fair (held on St Martin's Day in November) were important places for agricultural labourers across the county to seek work from landowners. The fairs continued through until the 19th Century.
In the 16th century the market area was reconfigured, with the market hall having been built between 1502 and 1539 according to the result of a dendrochronological survey carried out in 2002 by Ian Tyers of Archus Dendrochronolgy, Sheffield University. The market hall is an open plan, single-storey design, with a hipped roof supported on eight oak posts, and is a Grade II* listed building.
An archaeological dig was carried out in 2003 to see if the current earth floor to the market place was original. This dig found animal bones, clay pipes and pottery fragments, proving that people have been eating and drinking there for many years. The compacted earth floor was found to be original.
The market hall was restored in 2005, much needed as the previous work was carried out in 1927. During the work in 2005 a penny, dating back to 1806 was found under one of the posts, showing an earlier restoration. It was replaced, along with a pound coin from 2005, to show future generations when work was carried out.
These days the Market Hall is still used for occasional markets, Christmas Festivals and as a place to sit and eat; activities which have probably been happening under the market square since it was built.