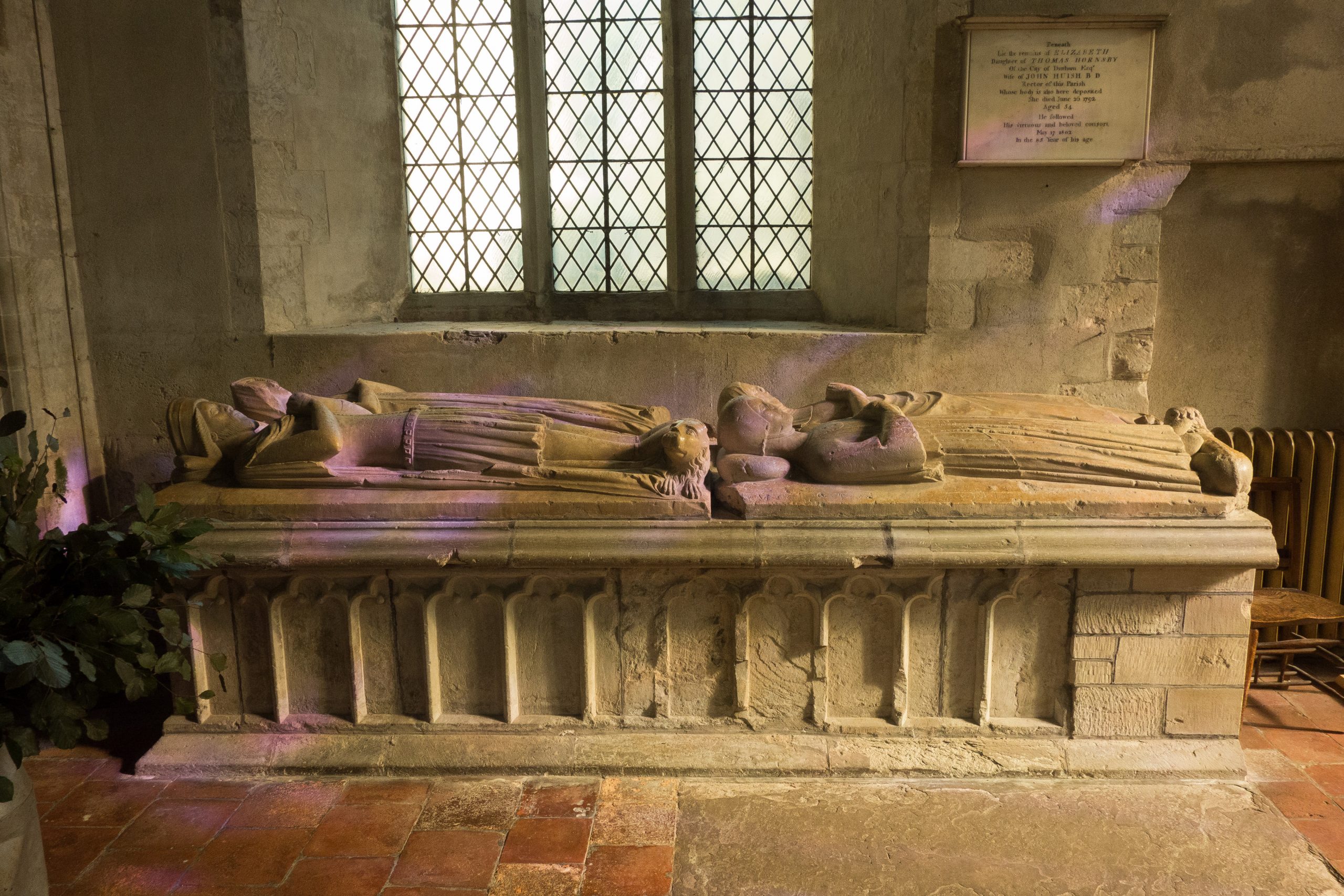 Gours or Gowers of Marston
In the chancel of Pembridge church there are four stone figures or effigies which date from the 14th Century. These are often commented on by visitors, so some research was carried out to see if we could find out a bit more about who they were.
The earlier figure is possibly that of Nicholas Gour, a Serjeant at law. It portrays a man in coif with a chin-strap and a ankle length tabard or tunic with lapels but no hood. He has his feet resting on a lion. Next to him is his wife, possibly in a widow's dress and a veil and wimple, her feet are resting on a dog. Lions were used to indicate valour and nobility (generally for men) and a dog would indicate loyalty (generally for women). These figures date to around 1360 − 1370.
The other two figures are probably John Gour, son of Nicholas (the other effigy). He was probably a non professional legal practitioner or another Serjeant-at-Law judging by his clothes and research suggests that he was active in the service of the Mortimers, who owned Pembridge at the time. He is dressed in a fashionable buttoned tunic and mantle, turban-head-dress, belted cotehardy to knees, loose cloak, buttoned at right shoulder, dagger at side, feet on lion, with his wife wearing a rectangular head dress, hanging sleeves, buttoned cloak, feet on dog. These probably date to around the 1380s according to "English Church Monuments in the Middle Ages by Nigel Saul".
We haven't yet been able to put names to the women but are continuing to investigate.
Visitor Attraction through the centuries
It is not just modern visitors who have noticed and commented on the tombs; they have attracted attention of visitors throughout the years.
Richard Symonds, visiting in June 1645, as he was travelling as part of the King's army during the English Civil War wrote:
South window, chancel:

Under this window, upon two low altar tombes of playne stone, lye the four bodyes of men and their wives, ad hane formam, old: This is observable, for never afore have I seene a thing of that age (unles a churchman) without armor. The other is of another fashioned habitt, not so observable, in a kind of a long robe, without any thing on his head.The inhabitants say they were in memory of the Gowres of Worcestershire.
Thomas Dingley in book History from Marble Compiled in the Reign of Charles II actually sketched the tombs.
Thomas Blount a local historian in 1675 wrote:
PEMBRIDGE. " Within the church are two chapels or chancels ; one called Marston Chapel : the other belongs to the Lochards. In the first are two ancient monuments of man and wife (as drawn by Dingley in p. cclii.) said to be Gours former lords of Marston, which now belongs to Monington of Sarnefield. In the window, a lyon rampant gules. Williams. Monington."
It is interesting to note that Richard Symonds describes them as being under the south window, Thomas Blunt saw them in one of the side chapels,rather than the north window as they are now. Old drawings and photographs of the church show that these tombs have been moved around the church over the centuries, maybe only coming to their most recent resting place in the 20th century.