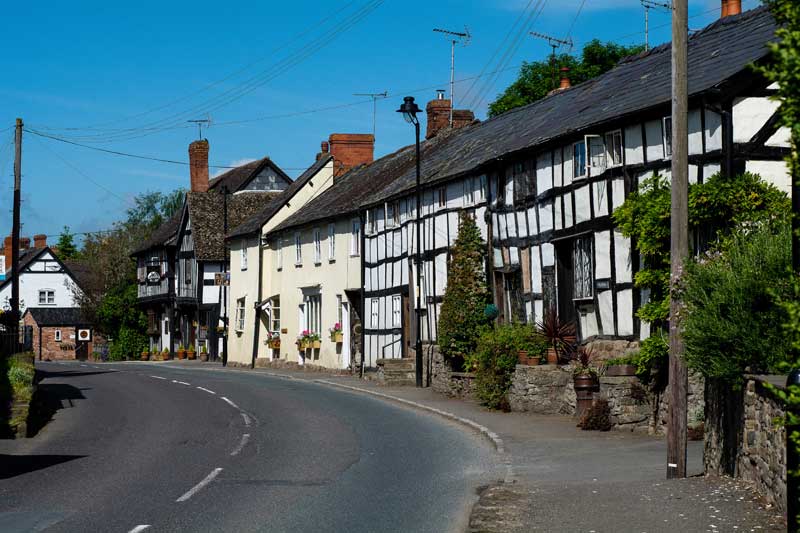 Although the existence of Pembridge can be traced back to the Anglo-Saxon period, one of the first written references to the village can be found in the Domesday Book.
This was a comprehensive record of all the land, its value and its ownership which was ordered by King William in 1086. A great survey was carried out and a manuscript record was made of the findings.
Pembridge's entry read:
PEMBRIDGE. Earl Harold held it. 11 hides, less 1 virgate; they pay tax. In lordship 3 ploughs; 20 villagers, 7 smallholders and 1 riding man with 12 ploughs. 3 slaves; a mill at 10s. There was woodland for 160 pigs, if it had produced (mast). The canons of St Guthlac's claim this manor of Pembridge; they state that Earl Godwin and his son Harold wrongly took it from St Guthlac's. Value before 1066 £16; later it was waste; value now £10 10s.
Earl Godwin, died in 1053, and his son Harold, was of course, Harold Godwinson who later became King of England. In 1066 he was crowned following the death of Edward the Confessor, only to be killed at the battle of Hastings in October that same year. William the Conquerer then became King of England.
Earl Harold may have acquired Pembridge after becoming Earl of Hereford in 1057. He was one of the most powerful men in the country, being Earl of Wessex as well as Hereford and may have exploited his position to seize a large amount of church property in Herefordshire.
St Guthlac was a Christian Saint who lived in Lincolnshire in the 8th Century. The canon's of Hereford were part of an order dedicated to him. They were lords of several properties in Herefordshire. The Benedictine Priory of St Guthlac was founded in Hereford between 1107 and 1122 and the monastic buildings occupied a considerable area outside the city wall.
The domesday entry shows that some kind of disaster had befallen Pembridge between 1066 and 1086, as the village was described as being 'waste' and the value of the village reduced. Although we don't know exactly what happened, one suspect is the Welsh King Gruffydd who launched several raids on Herefordshire. The Anglo Saxon chronicle mentions that Gryffydd's raid of 1052 penetrated deep into Herefordshire and it could have been this, that laid waste to Pembridge.
At this time Griffin, the Welsh king, plundered in Herefordshire till he came very nigh to Leominster; and they gathered against him both the landsmen and the Frenchmen from the castle; and there were slain very many good men of the English, and also of the French.
(http://www.britannia.com/history/docs/1052a.html)